Venice Beach Music Fest 2016. An Afternoon of Music and Art on Venice Beach
---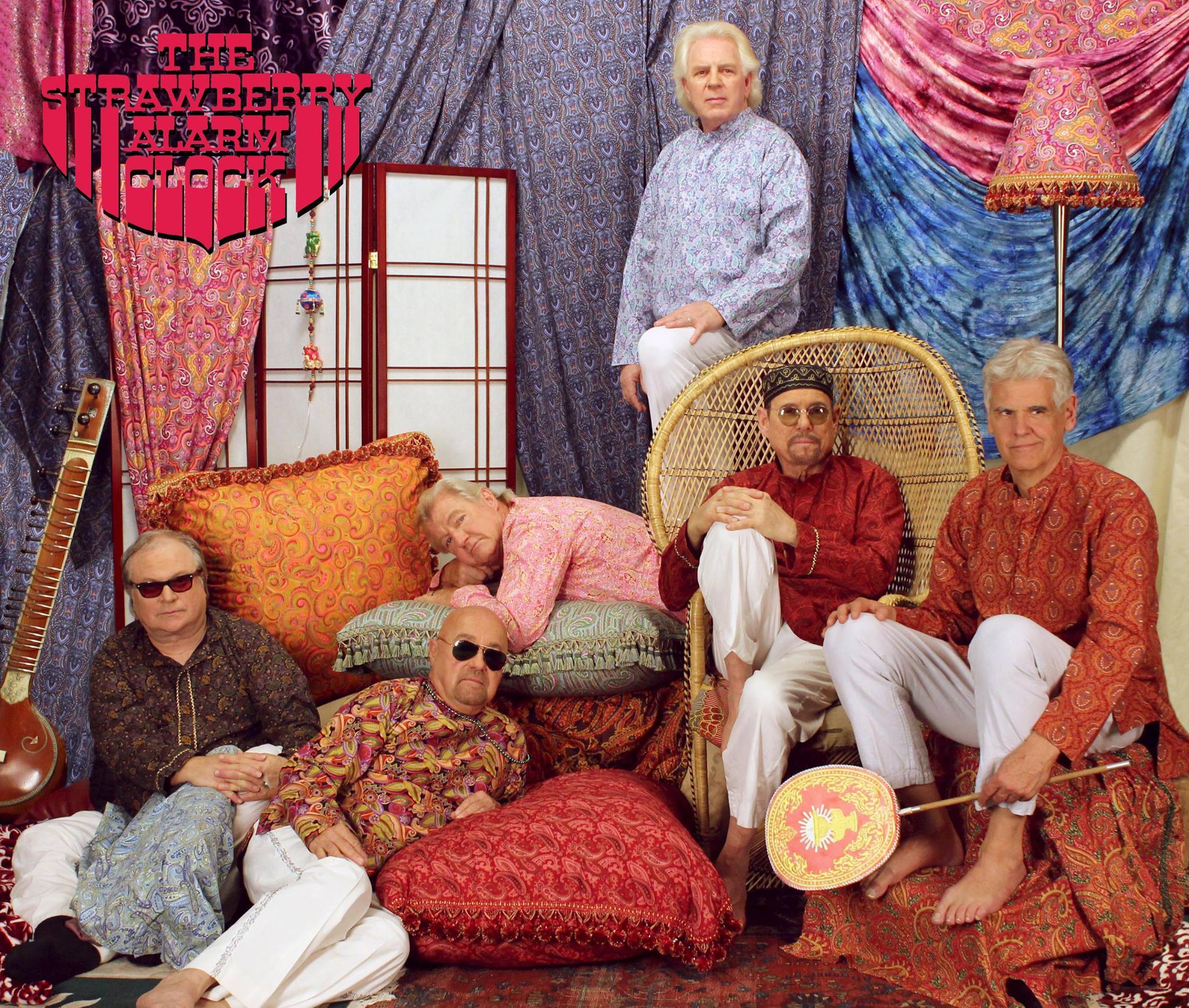 Strawberry Alarm Clock

STRAWBERRY ALARM CLOCK: Celebrating their 50th anniversary as a band, and the 50th anniversary of the release of their groovy Billboard #1 hit, "Incense and Peppermints," Strawberry Alarm Clock, featuring five original members, will headline Venice Beach Music Fest 12! No song encapsulates the sound of the '60s better than their quintessential psychedelic masterpiece, "Incense and Peppermints." The band's first album from 1967, Incense and Peppermint features the songs "Rainy Day Mushroom Pillow," "Sit With the Guru," and "Strawberries Mean Love." SAC evolved from a band called Thee Sixpence in 1967, which included drummer Gene Gunnels, keyboardist/vocalist Mark Weitz, guitarist Ed King, and the late vocalist and guitarist Lee Freeman. Drummer/percussionist Randy Seol, vocalist/bass player George Bunnell, and guitarist/flutist Steve Bartek joined next, as soon as he could get his parents' permission (he was 15). By November 1967, "Incense and Peppermints" had already topped the charts and was awarded gold status. The current band's lineup includes original members Weitz, Seol, Bunnell, Gunnels, and Bartek, as well as 30-year member guitar/sitar player Howie Anderson. In 2012, SAC released their first studio album in more than forty years: Wake Up Where You Are! They have been performing in concert with the current lineup since 2007, and are currently working on an album of new material. The band remembers playing at Venice's legendary Cheetah Club in 1967. Come celebrate 50 years of grooving in Venice with Strawberry Alarm Clock at Venice Beach Music Fest 12!
---
The Champa 67 Experience

THE CHAMPA 67 EXPERIENCE: Champa 51, Venice's own psychedelic dance band, is reuniting for the first time in years as The Champa 67 Experience, performing their original hits and honoring the 50th anniversary of the Summer of Love by bringing a funky twist to some of the great songs of 1967. Champa founders Marc and Andrea Blackbird make music that skillfully fuses rock, hip-hop, soul, and funk into organic dance music—with the raw power of a live band and the groove conscience of the great DJs. The band's work has been hailed by Music Connection magazine for serving up "seductive hip-hop grooves and soulful textures." They have shared the bill with some of L.A.'s great artists such as Perry Farrell (Jane's Addiction) and Nels Cline (Wilco), and have rocked the house at festivals including X Games events and Burning Man. Currently confirmed to perform are Champa 51 alums Marc Blackbird on guitar, vocals, and psychedelic noisemakers, and vocalist Andrea Blackbird, along with special guests: bassist Geoff Mann (Here Lies Mann), percussionist Giovanni Washington (Rhythmquest), and vocalists Joy Rosenberg and Nichelle Monroe (Common, Mos Def, daKAH Hip Hop Orchestra), with more announcements coming soon. Come and dance as the old and new pull groove essence from the edges of the universe together for a psychedelic new world explosion: The Champa 67 Experience!
---
Barry THE FISH Melton with Peter Albin, Greg Douglass, Roy Blumenfeld, and David Aguilar

BARRY "THE FISH" MELTON AND THE SAN FRANCISCO ALL-STARS (Peter Albin, Roy Blumenfeld, David Aguilar, & Greg Douglass): In 1965, Barry Melton and Country Joe McDonald began playing music at Berkeley protests against the Vietnam War. Soon they were recording and touring as Country Joe and the Fish, performing at the ballrooms of San Francisco in the psychedelic music scene, and by 1969 had performed their classic antiwar anthem, "I-Feel-Like-I'm-Fixin' to Die Rag," at the legendary and groundbreaking Woodstock and Monterey Pop festivals. Melton pursued an active career as a public defender, yet continued playing music in The Dinosaurs, a band of '60s veterans that included members of Big Brother and the Holding Company, Quicksilver Messenger Service, Jefferson Airplane, Moby Grape, and the incomparable Merl Saunders on keyboards. Melton's special connection to Venice is that he remembers coming here as a child. "Venice was the center of the counterculture in the late '50s and early '60s, and it has maintained a continuing counterculture tradition," he notes. Melton will be joined onstage by these fine musicians: Roy Blumenfeld (Blues Project, Chuck Berry, John Lee Hooker, Paul Butterfield, Elvin Bishop, Carlos Santana), Peter Albin (Big Brother and the Holding Company), David Aguilar (Big Brother and the Holding Company), and Rock-and-Roll Hall-of-Famer Greg Douglass (he co-wrote the Steve Miller Band's hit, "Jungle Love").
---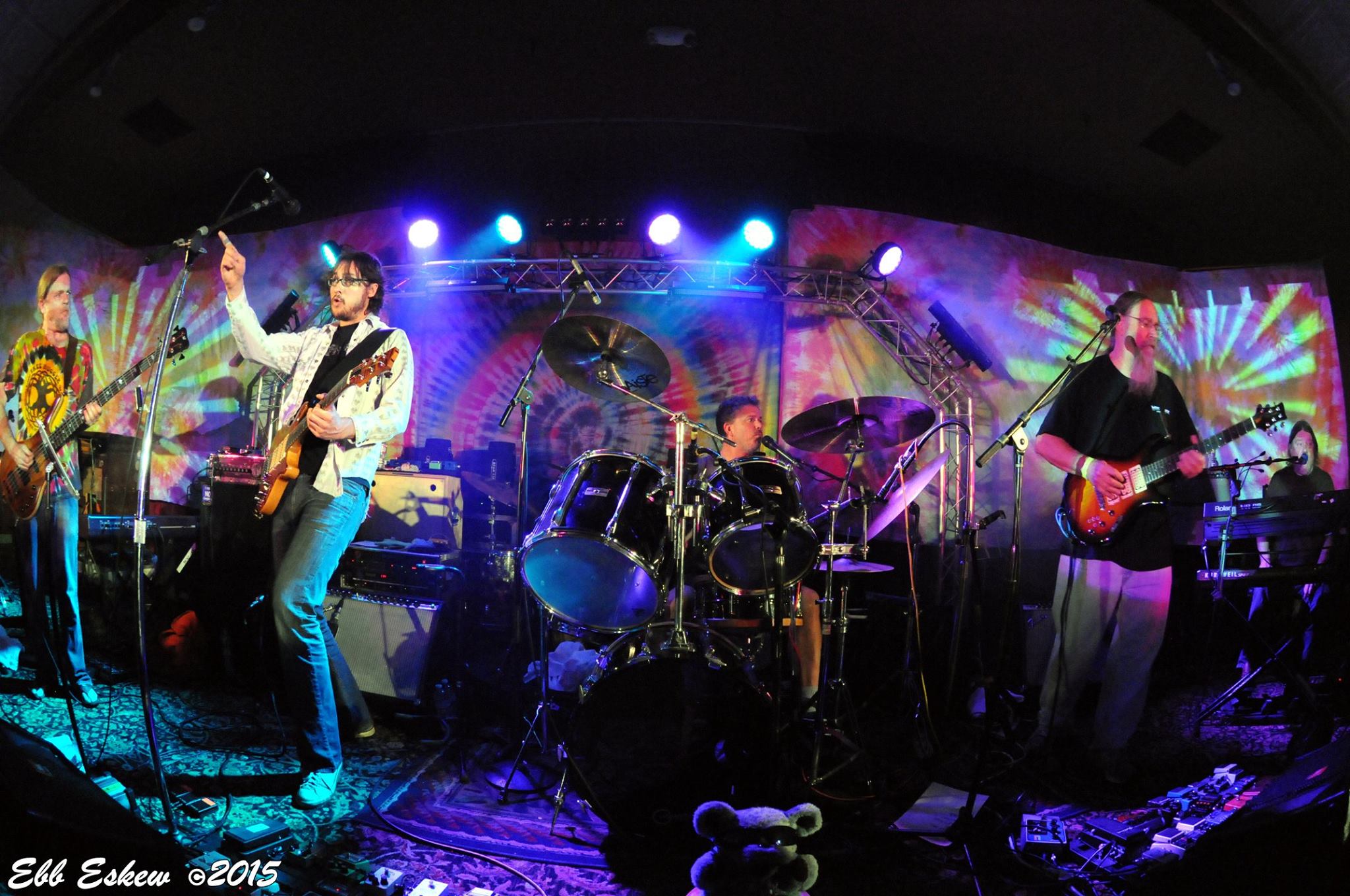 Cubensis
http://www.cubensis.com/
CUBENSIS: Since 1987, Cubensis has carried the torch in celebration of America's most beloved touring band, the Grateful Dead. Celebrating their thirtieth anniversary this year, Cubensis has proudly become Southern California's premiere Grateful Dead tribute band, and with good reason: they continue to give new life to the Dead's material and innovate with new musical stylings, while at the same time remaining loyal to the original music and its fans. Drawing from all eras of the Dead's canon, Cubensis performs Grateful Dead and Jerry Garcia Band classics that retain all the spontaneous exploratory jamming for which the bands were known. However, the music produced is uniquely Cubensis's, and has a life and following all its own. The group was recently profiled in the OC Weekly, and consists of Craig Marshall on lead guitar, Nate LaPointe on rhythm guitar, Larry Ryan on bass, Tom Ryan on keyboards, and two drummers to keep things moving at an incredible pace: Ed Fletcher and Brad Rhodus.
---
Ann Cohen

Ann Cohen will be reading from the San Francisco Oracle in honor of ALLEN COHEN: The summer of 1966 people began to attend a series of meetings to discuss starting a newspaper. These poets', artists envisioned a revolution of love and peace starting in the Haight and engulfing the whole planet. The San Francisco Oracle emerged. The papers theme of reference was based on: Visions, Quests and solutions. The San Francisco Oracle was the street paper that originated with a dream from Allen Cohen. "One morning in the late spring of 1966 I dreamt that I was flying around the world,. When I looked down, I saw people reading a newspaper with rainbow printed on it – Paris at the Eiffel Tower, in Moscow at Red Square, on Broadway in New York, at the Great Wall of China – everywhere. A rainbow newspaper!" With the help of the community The San Francisco Oracle became a reality. Looking at the Oracle could be a sort of occult trance experience communicated across the dimensions of space and time, through the tabloid medium, from one explorer of inner worlds to another. The Oracle distribution was as far west as New Zealand, India and Vietnam (The Oracle received Vietnamese marijuana from soldiers in return) and as far east as Prague and Moscow hidden in the bottom of boxes of second-hand clothing. An Oracle meeting included everyone- editorial and art staff, secretaries, circulation and business people, invited guests and anyone who happened in the door. We felt that if the flow brought a person then, they were meant to be there. Therefore they were allowed to vote on what ever issue was being decided. We thought of these guests and drop-ins as representatives of the rest of the world. The Oracle talked about taking care of ones body and ones planet. These Oracle beliefs have proven to be necessary to continue life on this planet. Ann will be reading from the Oracle in honor of Allen Coehn and the BEAT generation who provided a foundation that the Venice Beach Music Fest has continued to build upon with our free annual celebrations of the arts.
---
ArtQueens Great Planet of Apparel Art

ARTQUEEN'S GREAT PLANET OF APPAREL ART: ArtQueen's Swedish performance troupe returns to Venice Beach Music Fest with a fashion show of recycled materials, accompanied by a live band performance. Great Planet of Apparel Art is a show that consists of 15 artists, 14 models and 5 musicians, all working together to create a nontraditional fashion show that not only entertains but awakens in the audience an awareness of art as a catalyst. The show's mission is to show the cycle of Earth's destruction and reconstruction through art and love. Their theme is: "Earth shrivels and is burned out by cold hearts…Love gives power and the planet heals…Man gives a promise of love to the universe." A music and art event not to be missed!
---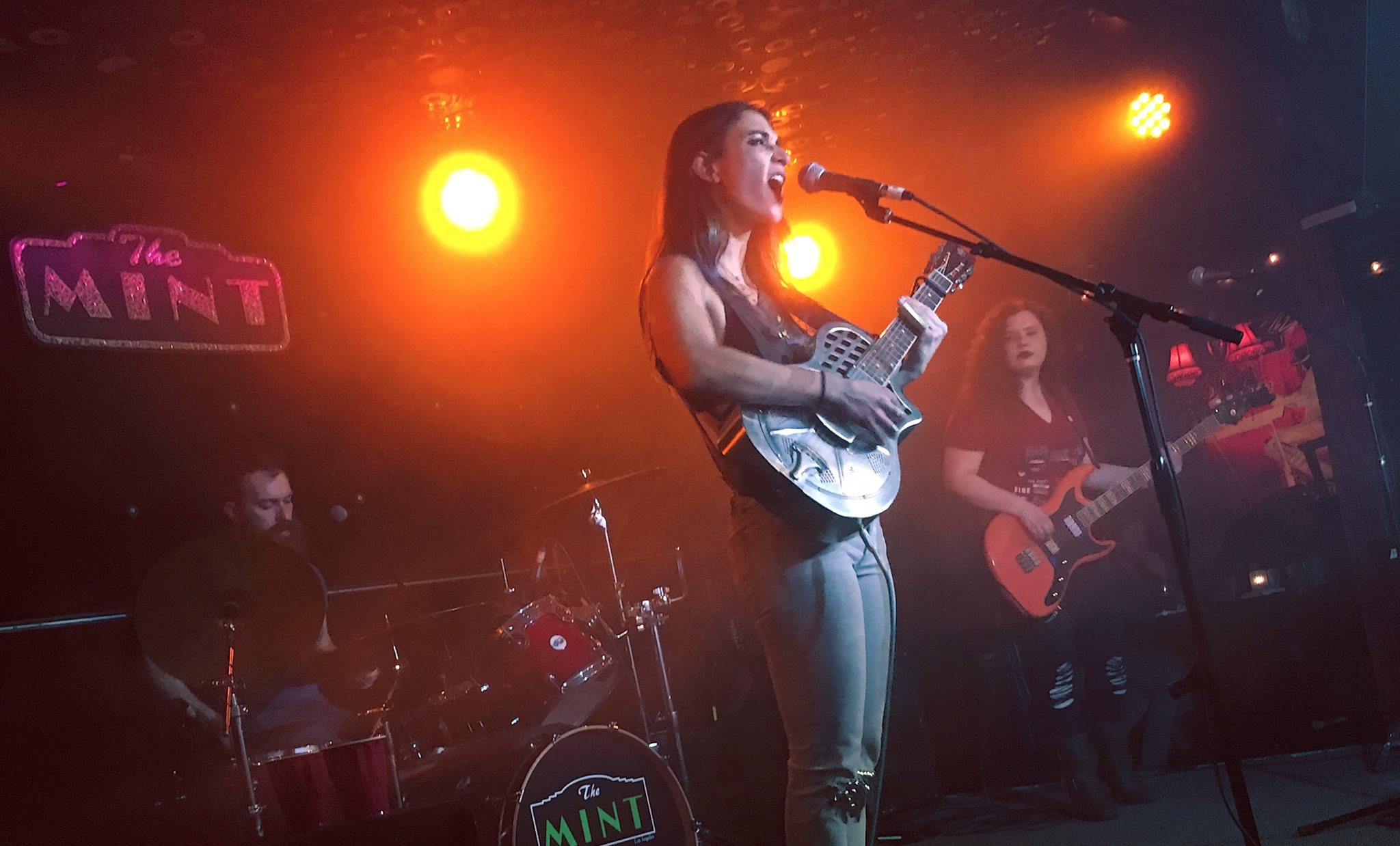 Cristina and the Blue Vanes

CRISTINA & THE BLUE VANES: Born in Europe, and working her way across the United States, Cristina Vane has been taking Venice by storm with her unique blend of country blues, delta blues, and folk, creating her own flavor of the blues. Vane spent her childhood and adolescence studying classical voice, music theory, piano and flute. This theme continues throughout her career today; while she predominantly plays slide guitar, she employs fingerpicking, acoustic and electric guitar techniques, as well as clawhammer banjo playing. Whether on the Venice boardwalk busking by the beach, or onstage on the Sunset Strip, her signature silver resonator, slide guitar playing, and powerful vocals are unmistakable and unforgettable by anyone who hears her.
---
Turtle and Anonymous

TURTLE & ANONYMOUS: Turtle is happy to return to the main stage of Venice Beach Music Fest to once again share his poetry about the paradoxes of life and love. He will be accompanied by original Merry Prankster Anonymous, who was only 15 years old during the famed Furthur Bus's inaugural cross-country run, led by psychedelic pioneer Ken Kesey and Beat icon Neal Cassady. Turtle and Anonymous met recently during the national neo-Prankster revival accompanying Furthur's 50th anniversary trip, and have cultivated a friendship ever since, based on mutual respect and love for the arts.
---
Ya Harissa Bellydance Theater

Ya Harissa Bellydance Theatre has confirmed 2 performances on Aug 27 2016 at Venice Beach Music Fest 11 - This Venice-based dance company performs a mix of different styles from traditional to cabaret. The ladies of Ya Harissa are veterans of the Venice Beach Music Fest and are welcomed back for several more intriguing dance sets in front of the Ocean Stage.
---